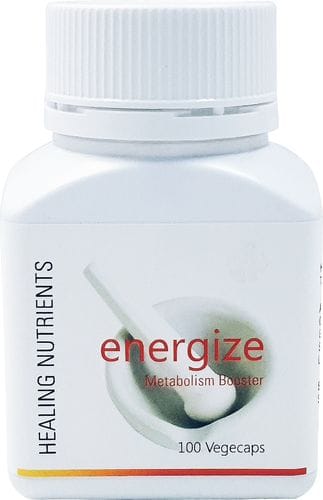 Energize
100 vegetarian capsules
A synergistic blend of nutrients designed to stimulate the metabolism, improve mental focus, support thyroid function and reduce fatigue. Antioxidant properties.
Active ingredients
Coenzyme Q10 (ubiquinone) 50mg, green tea extract 150mg, selenium (as selenomethionine) 200mcg, L-tyrosine 200mg
Coenzyme Q10 is a nutrient that occurs naturally in the body. It is essential in the cellular energy production process. Acting as an antioxidant, it protects cells from damage and plays an important role in metabolism. Green tea is a potent antioxidant and aids in improving mental focus, while selenium and L-tyrosine optimise thyroid function.
Contains
No fillers, no animal products, no artificial colours, lactose-free.
Directions
Take 2 capsules daily after breakfast or as directed by your healthcare practitioner.
Storage
Store in a cool, dry place away from direct heat or sunlight.