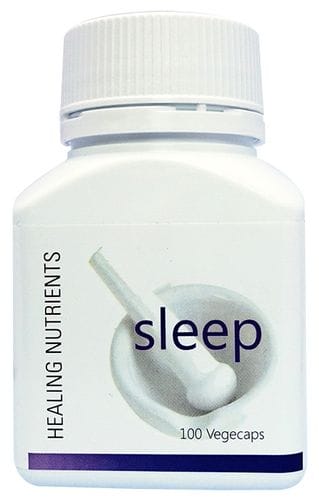 Sleep
100 vegetarian capsules
A non-addictive combination formula to promote better sleep, elevate mood and concentration, and calm anxiety. Contains 5-hydroxytryptophan, GABA, magnesium and inositol.
Active ingredients
5-hydroxytryptophan 50mg, magnesium glycinate 200mg, GABA 100mg, inositol 125mg, pyridoxine [vitamin B6] 12.5mg, niacinamide [vitamin B3] 12.5mg
5-hydroxytryptophan is a naturally occurring amino acid and is the precursor of the neurotransmitter serotonin, which promotes normal REM sleep. GABA (Gamma-aminobutyric acid) is another neurotransmitter that helps to induce relaxation and promote sleep.
Magnesium is a natural muscle relaxant and a sleep enhancer, which is important for mineral balance, glucose regulation, immune regulation and amino acid activation. Inositol is a critical component of the cell membrane and myelin sheath. It works synergistically with GABA to reduce the stress response.
Contains
No fillers, no artificial flavours, lactose-free.
Directions
Take 2 capsules once daily at night, one hour before bedtime. May be taken together with melatonin for synergistic effects. For optimum benefits, practise good sleep hygiene.
Storage
Store in a cool, dry place away from direct heat or sunlight.