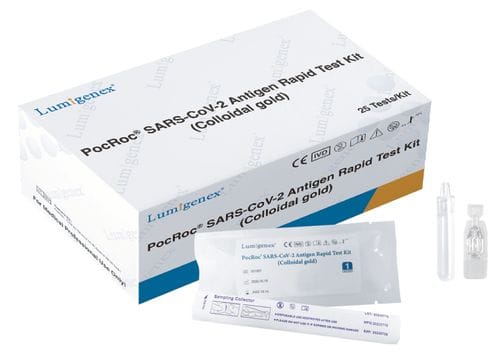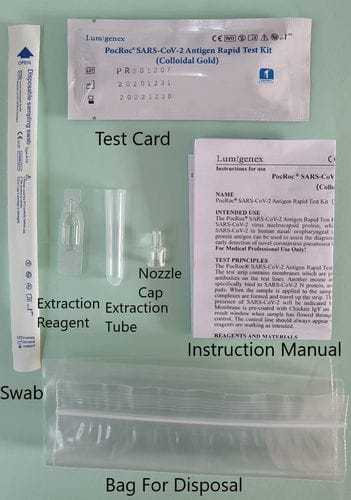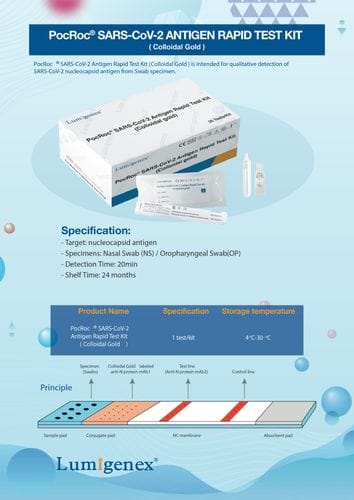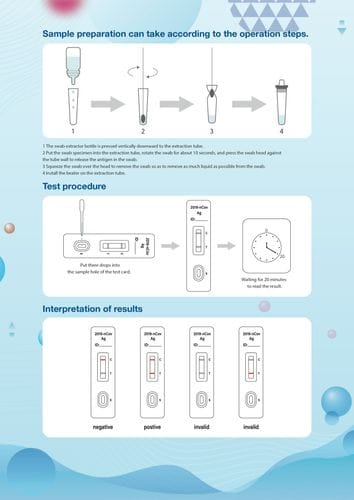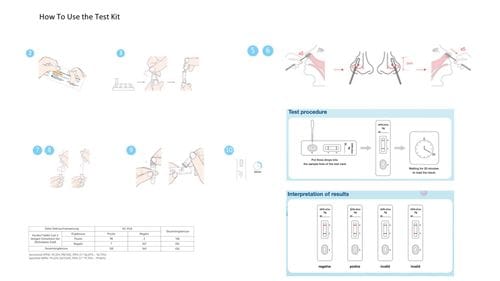 Lumigenex Covid-19 Antigen Rapid Test (ART) Kit *Single Test*
*1 Single Test ART Kit Contains:
1 x disposable swab stick
1 x test card (foil pouch)
1 x extraction reagent bottle
1 x extraction tube
1 x nozzle cap (beater)
1 x instruction manual
1 x transparent bag for disposal
Lumigenex ProcRoc® Covid-19 (SARS-CoV-2) Antigen Rapid Test (ART) Kit is intended for qualitative detection of Covid-19 (SARS-CoV-2) nucleocapsid antigen from Swab specimen that has received Provisional Authorisation by the Health Sciences Authority (HSA) in Singapore.
Detection time: 20 minutes
Directions For Use:
Open the package and remove the test card from the foil pouch prior to use. Place on a flat, horizontal clean surface.
Place the extraction tube on the workbench.
Hold the buffer bottle vertically and fill the extraction tube with the extraction reagent.
Insert the swab into one nostril of the subject. The swab tip should be inserted up to 5cm (1 inch) from the edge of the nostril.
Roll the swab 5 times along the mucosa inside the nostril to ensure that both mucus and cells are collected.
Use the same swab; repeat this process for the other nostril to ensure that an adequate sample is collected from both nasal cavities.
Withdraw the swab from the nasal cavity.
Place the swab specimen into the extraction tube, swirl the swab in the extraction reagent inside the extraction tube for about 10 seconds, pushing into the wall of the extraction tube and then squeeze out the swab by squeezing the extraction tube with your fingers.
Dispose of swab in the bag provided.
Install the nozzle cap on the extraction tube, dispense 3 drops into the sample hole on the test card, and start the timer. Do not handle or move the test card until the test is complete and ready for reading.
Read the result at 20 minutes. A strong positive result can be reported within 20 minutes, but a negative result must be reported after 20 minutes. Do not read the result after 30 minutes as it will be invalid.
Place all used items of the kit into the bag provided and dispose according to the local regulations and biohazard waste disposable protocol.